On my last vacation in Québec, I was able to find a booklet at the National Library of Quebec (yes, I go to libraries on vacation) called:
"Programe et règlements: Le Parti National Social Chrétien du Canada" (1935), the program and rules of the PNSC, a homegrown fascist party.
A section deals with the rank insignias worn by its members, it only gives a text description but considering they consist only of circles and bars, it wasn't too hard to reconstruct (see attachment).
The one bit that still puzzle me is that on some pictures, a few members appear to also wear insignias on their shoulder straps.
Adrien Arcand (The Leader) in this photos has the Party logo:
and the member on the lower left in this one appears to have 3 pips on his shoulder: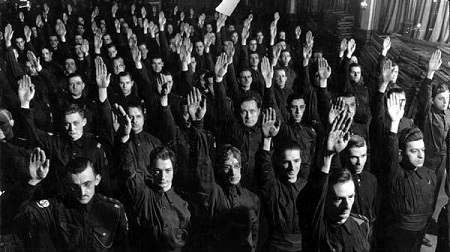 Neither are mentioned in the pamphlet but the fact that the logo (worn by the leader) looks a bit like a field marshal insignia coupled with the 3 pips makes me think that in addition to the other badges, some sort of british/canadian sort of insignias were also worn for some purpose.
One question I would also have, if someone has access to insignias descriptions worn by the BUF, do the colours of their flashes correspond in any to the circles of the PNSC ?