about franchise:
http://en.wikipedia.org/wiki/Crest_of_the_Stars
http://seikai.wikia.com
Humankind Empire of Abh
Included: blue hair ( elven ears only for the imperial family ), Martian logic, square-cluster method of thinking, imperial pathos, unpronounceable names and two hundred year life expectancy without aging ...
Gash own empire with the feudal system and militarism!
Control one half of humanity and constantly at war with the other half.
Descend to the surface rarely , preferring to live in space.
Star Forces of The Humankind Empire of Abh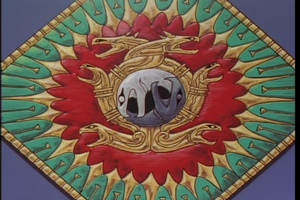 Ranks:
English ("Baronh" Abh's fictional language, Kanji)
[rank insignia]
Imperial Admiral (Rüé Spainec, 帝国元帥)
Star Forces Admiral (Spainec Laburar, 星界軍元帥)

Grand Admiral (Fofraudéc, 大提督)

Admiral (Fraudéc, 提督)
Rear Admiral (Roïfraudéc, 准提督)
Kilo-commander (Cheüass, 千翔長)
Hecto-commander (Bomoüas, 百翔長)

Vice Hecto-commander (Roïbomoüass, 副百翔長)

Deca-commander (Loüass, 十翔長)

Front Flyer (Lecraic, 前衛翔士)

Rear Flyer (Rineer, 後衛翔士)

Wing Flyer (Fectodaic, 列翼翔士)

Trainee Flyer (Bénaic lodaïrr, 翔士修技生)
Most Senior Follower Commander /Master Chief (Boalm Wesash, 最先任従士長)

Senior Follower Commander /Senior Chief (Alm Wesash, 先任従士長)

Follower Commander /Leading Crewman = Chief (Wesash, 従士長)
First-class Follower /First-class Crewman (Sash Kasna, 一等従士)

Second-class Follower /Second-class Crewman (Sash Mata, 二等従士)
Third-class Follower /Third-class Crewman (Sash Bina, 三等従士)
Fourth-class Follower /Fourth-class Crewman (Sash Gona, 四等従士)
First-class Trainee Soldier /Apprentice (???, 一等錬兵)

???
Second-class Trainee Soldier /Recruit (???, 二等錬兵)

The World of Seikai/List of Star Forces rank:
http://seikai.wikia.com/wiki/List_of_Star_Forces_rank
Image of insignia taken from here:
http://kinofthestars.heavenforum.org/
(soldier's and NCO's rank insignia raise doubts)
http://www.angelfire.com/anime6/seikai/Abh-Rank.htm
Abh officer's uniform: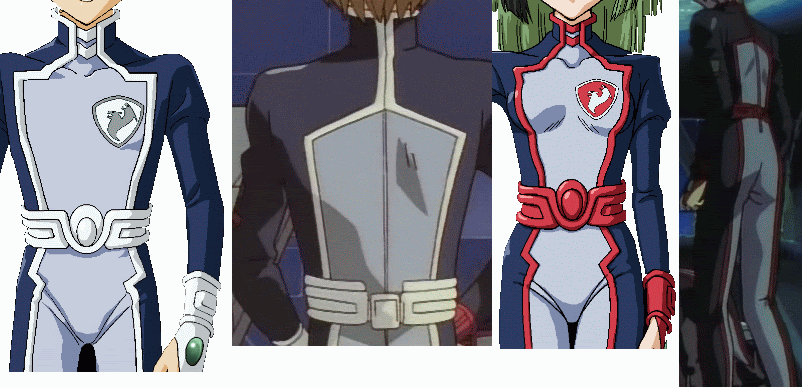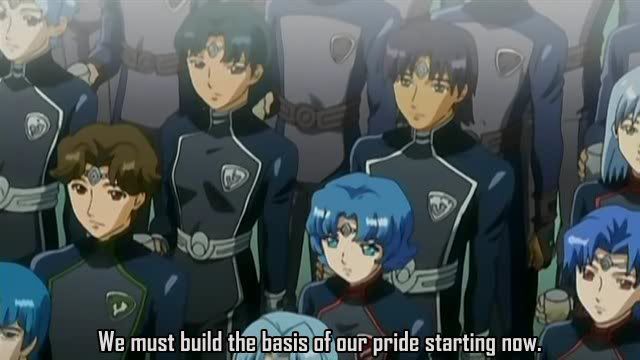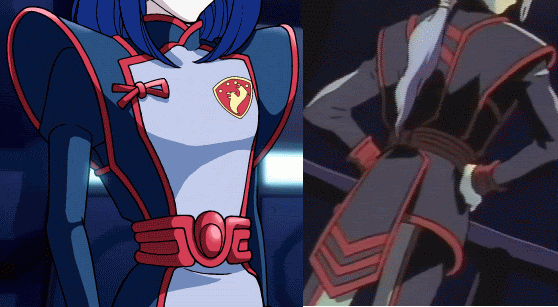 Uniform for enlisted & engineer departement: